Used Utica Mill Roll Cutters / Rewind Slitters
and Parts For Sale
Brought to you by Cole Farms, Inc.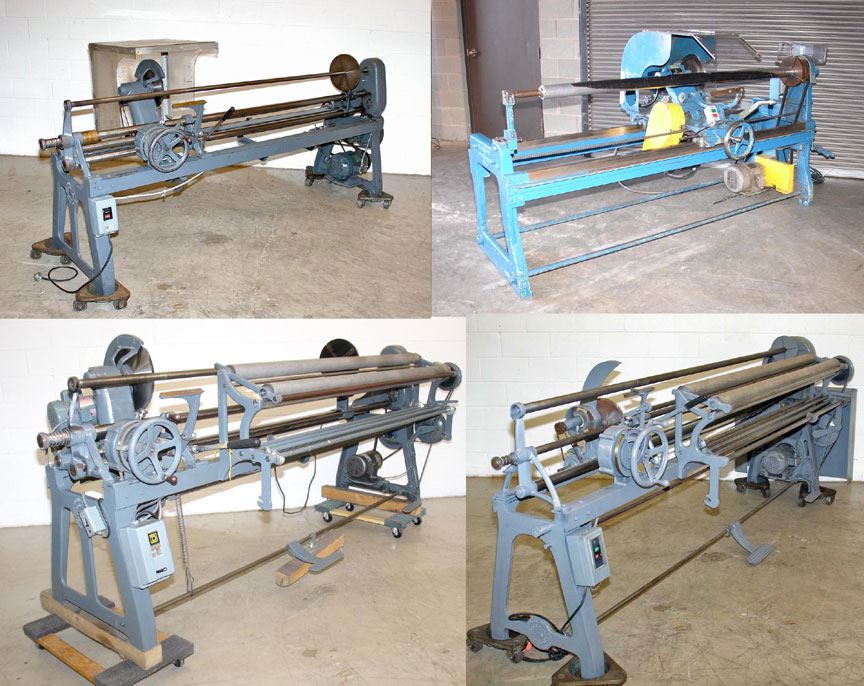 ---
---
Utica Mill Specialty Machine Company has been manufacturing a full range of slitters / rewinders for the converting industry for over 5 decades. The company builds machines for the textile industry but the slitters and rewinders can be used in other industries as well. Since 1903, Utica Mill has been manufacturing quality machines which unwind, rewind and slit large rolls (also known as reels or webs) of material, making them the usable for either further processing or consumer use. Companies all over the world integrate Utica Slitters and Rewinders into their manufacturing process. Utica slitters and rewinders are extremely rugged and have a reputation for dependability and longevity. I own one of the slitters and am amazed at how rugged they are built and how easy they are to work on.

Utica produces Spreading Machines, Standard Strip Cutting Machines, Heavy Duty Strip Cutting Machines, Combination Cutting and Winding Machines, Side Slitting and Rewinding or Re Rolling Machines, Cloth Winding Machines, the D60000 Automatic Slitting Machine, Bias Machines, Collarette Cutters, Cloth Inspection Machines as well as a variety of custom machinery.

New machines can be purchased directly from the company. Used and rebuilt machines can be purchased from brokers who purchase and refurbish the machines and resell them. John-Paul Deaver at t-tliquidators.com normally has a full range of the slitters at very reasonable prices. Parts are available from the manufacturer or from brokers.

The Utica Mill Specialty Machine company is still in operation in Utica New York. In addition to selling new machines they also upgrade and refurbish older equipment to meet new specs and requirements. They also offer technical support on their equipment as well as training.

Roll slitters are extremely rugged machines that can last decades if properly cared for. Also, if parts are available, old slitters can be refurbished to be just like new ones. Since new slitters can be incredibly expensive, we have compiled some sources for used Utica Mill slitters and rewinders. We have also listed the manufacturer below for those who require new equipment. Here they are :

T & T Liquidators - Source for Used slitters and rewinders. Located in Lumberton NC.

Utica Mill Specialty Machines - Source for New slitters and rewinders. Located in Utica NY.

Benick Machine Works - Source for used or rebuilt slitters and rewinders.

Margot Machinery - Source for used or rebuilt slitters and rewinders. Large number of Dusenbery machines on hand.

SVIT USA - Used and Rebuilt rolls slitters, rewinders and other heavy machinery.

Ebay - You can normally find several slitters both new and used on Ebay. Also, try doing an advanced search for old auctions. Select "completed auctions". This will give you more choices.

Craigslist Search Engine - Search all of craigslist at one time from one site. Simple to use. Just type in your keyword(s)and your zip code.


---
Webpages To Help You Find Other Converting Equipment

Finding Used/Rebuilt Dusenbery Roll Slitters and Rewinders and Parts - Used and Rebuilt Dusenbery Roll Slitters and Rewinders and Parts.

Finding Used/Rebuilt Utica Roll Slitters and Rewinders and Parts - Used and Rebuilt Utica Roll Slitters and Rewinders and Parts.

Slitter Blades - New or Sharpened - Places to find new slitter blades or have them sharpened.


---
Utica Mill manufactures 6 models of Slitters, 3 different types of spreading machines, 6 Bias Cutter Machines, and 5 special purpose machines. They also provide custom machinery.
---