Used Dusenbery Roll Cutters / Rewind Slitters
and Parts For Sale
Brought to you by Cole Farms, Inc.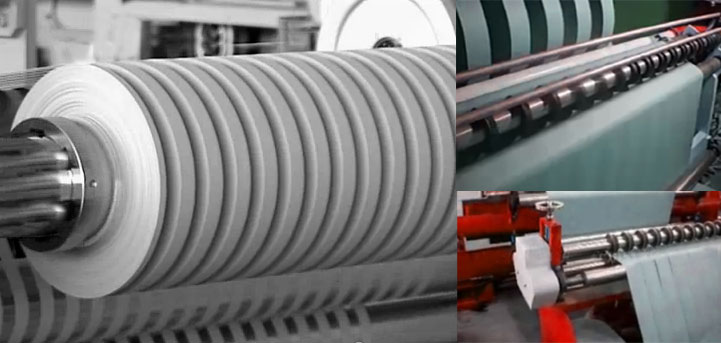 ---
---
The John Dusenbery Company has been manufacturing a full range of slitters / rewinders for the converting industry for over 5 decades. Over that period of time Dusenbery has been creating industrial quality machines which unwind, rewind and slit large rolls (also known as reels or webs) of material, making them the proper size for either further processing or consumer use. Companies all over the world have made Dusenbery slitters and rewinders an integral part of their manufacturing process. Dusenbery slitters and rewinders have a reputation for dependability and precision.

As time and technology have progressed, the demand for faster and more precise slitting has grown. Dusenbery has met that demand by continuing to upgrade and improve their slitter and rewinder lines. Some of their newer machines run at speeds of up to 3,000 feet per minute.

The Dusenbery Model 585 slitter/rewinder was one of the first high production models. The model 635 was introduced soon afterwards for the conversion of polyester and plastic films. In the 1950's the company introduced the Dusenbery 815 series then the 800 series in the 60's. In the 70's the company came out with the 809 series. These machines reached speeds of up to 2,000 feet per minute. The 80's marked the introduction of computer controlled machines and even higher production speeds. The Dusenbery Model 10000, 804, 805, and 806 machines were introduced during this time period. The model 807 is the largest model ever built. In the 1990's the model 616 was produced. Suffice it to say that almost every large manufacturer in the world either owns or is familiar with Dusenbery Slitters and Rewinders.

The Dusenbery company is still going strong and is now a part of the Parkinson Technology group. In addition to selling new machines they also upgrade and refurbish older equipment to meet new specs and requirements. They also offer technical support on their equipment as well as training. There is an online material slitting manual on their site. (see link below)

Roll slitters are extremely rugged machines that can last decades if properly cared for. Also, if parts are available, old slitters can be refurbished to be just like new ones. Since new slitters can be incredibly expensive, we have compiled some sources for used Dusenbery slitters. We have also listed the manufacturer below for those who require new equipment. Here they are :

John Dusenbery Manufacturing - Source for New slitters and rewinders as well as replacement parts.

Benick Machine Works - Great Source for used or rebuilt slitters and rewinders.

Margot Machinery - Great Source for used or rebuilt slitters and rewinders. Large number of Dusenbery machines on hand.

SVIT USA - Used and Rebuilt rolls slitters, rewinders and other heavy machinery.

Ebay - You can normally find several slitters both new and used on Ebay. Also, try doing an advanced search for old auctions. Select "completed auctions". This will give you more choices.

Craigslist Search Engine - Search all of craigslist at one time from one site. Simple to use. Just type in your keyword(s)and your zip code.


---
Webpages To Help You Find Other Converting Equipment

Finding Used/Rebuilt Dusenbery Roll Slitters and Rewinders and Parts - Used and Rebuilt Dusenbery Roll Slitters and Rewinders and Parts.

Finding Used/Rebuilt Utica Roll Slitters and Rewinders and Parts - Used and Rebuilt Utica Roll Slitters and Rewinders and Parts.

Slitter Blades - New or Sharpened - Places to find new slitter blades or have them sharpened.


---
Dusenbery manufactures the following models of center winders - Model 335, 465, 485, 633, 635, 740, 804, 807, 835 and model 10000. The company produces the following models of Surface center winders - Model 220/400, 280/800 and the model 803. Dusenbery make the following surface winders - Model 613, 616 and 840/909. Lastly, Dusenbery manufactures one single knife cutter for roll slitting. It is the model 3100.
---